Das studio are a collective of 18 cross-disciplinary creatives and professionals curated as much for their humour and generosity as their talent and experience.
Sara Horstmann
Creative Director
In 8 short years, Sara advanced from Graduate to Founder and Creative Director of Das Studio. Within 3 years she created a business formed on a foundation of human happiness and now leads a team of 17 creative minds and professionals.
After completing a degree in Architecture and practicing for a time in the profession, she acted on a curiosity for furniture and lighting with a second degree in Product Design. Two pathways that when combined, grant her a beautifully unique perspective of the interior world.
Having carved out a specialisation in high-end residential, hospitality and accommodation design early in her career, Sara turned her fascination for the creation of 'moments' of beauty and joy into a career for making people's lives better, functionally and emotionally. Now as a mentor and creative with genuine humanity, Sara imparts her encyclopedic knowledge of design with her team and her clients are truly the beneficiaries.
Dino Vrynios
Managing Director
From Architect and Associate, to joining Sara at the helm of Das Studio as Managing Director in 2019, Dino has spent the last 13 years leading projects and teams across large and small practice in South Australia.
As a fierce advocate within his community, Dino has committed across his career charity and activism that has propelled him to being a trusted leader within South Australia, and to his beloved Das teammates. His acknowledgement being awarded the National Emerging Architect Prize by the Australian Institute of Architects in 2021 is testimony to that.
Everything Dino has achieved to date is a glimpse into the kind of leader that he is. One who spreads knowledge, is profoundly generous and shares in good ideas as parts of a common agenda rather than the expression of a single person. In this way he makes sure change, innovation and initiatives are steered by many champions.
Because at the end of the day, Dino hand-on-heart believes a rising tide lifts all ships.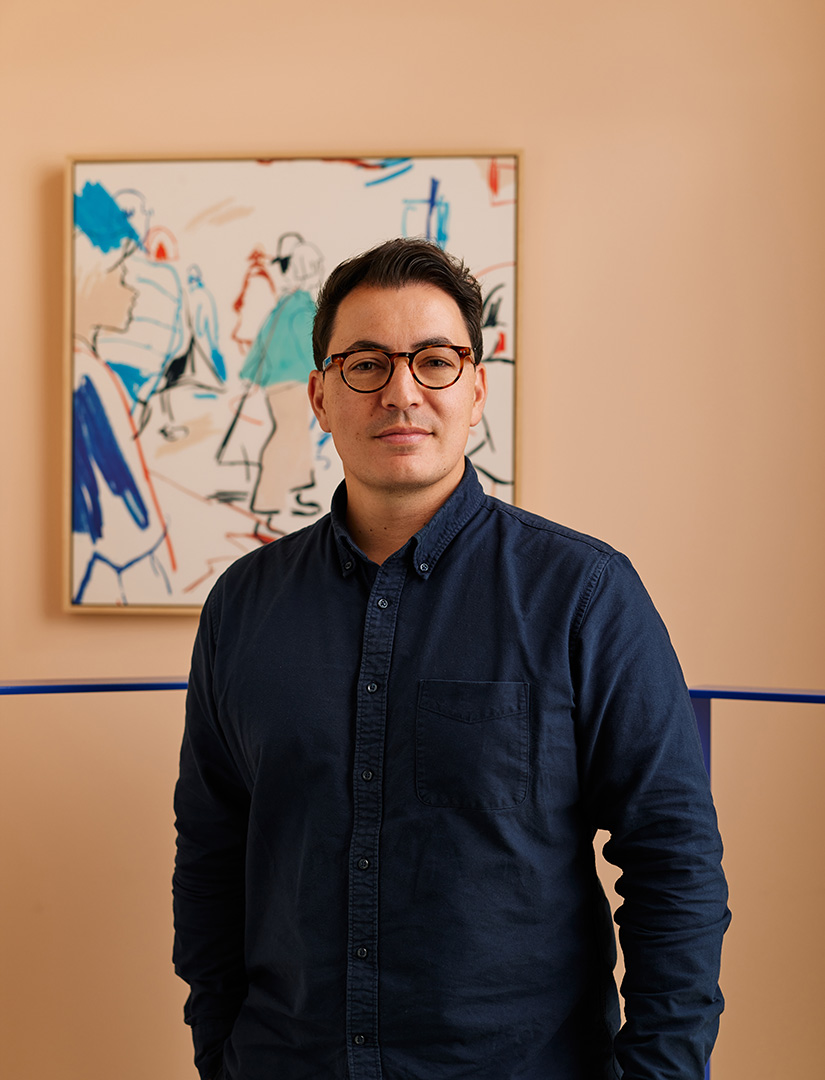 Sarah Thompson
Associate & Practice Manager
Every business dreams of finding a Unicorn. A mythical maverick who dances between Finance, HR, IT, QA, BD and all the other administrative and occupational acronyms, to run the tightest of studio ships. Drawn to the high-octane nature of the design industry, Sarah has operated in architecture since 2012, with 4 years managing in various sectors prior to this.
A Diploma in both Accounting and Management, and the current balance of studying for an MBA – alongside her full-time role – is an insight into the hustle, smarts and dexterity Sarah has engaged throughout an already extensive professional career. She is one-part numbers and one-part analytics served with a liberal dose of emotional intelligence and business nous.
Sarah's ability to put people at ease naturally makes her the beacon of guidance and support for all things Das; professional, personal and everything in between. Sarah is our North Star – guiding us away from storms and always shining bright.
Allan Yeo
Associate & Senior Architect
Enjoying drawing and sketching from a young age, Allan discovered a medium through which to express himself creatively. Following a stint studying Engineering with one eye on a potential pivot to Graphic Design, stumbling across an Architecture exhibition showed him a path to satisfy all his interests. One that fosters creativity at the nexus of design and maths – a dance between art and science.
In the 13 years since, Allan has grown through practice in Australia, Europe and the Middle East, into an extremely balanced designer and technician who masterfully straddles the realms of rich narrative development and documentation acumen. For Allan, there is no greater joy than seeing something you've imagined in your mind's eye come to life in a building.
Now at home mentoring and leading the talented team at Das, Allan has found an environment that allows him to push forward with the transition to more advanced design modelling methodologies – building on the foundations laid by Das's philosophy to always 'make better'.
Rachel Pargeter
Associate & Senior Interior Designer
Some might say Rachel's career stemmed from the persistent persuasion of a sibling but in reality, it was something much more personally ingrained. With an Advanced Diploma of Design for Live Production, Theatre and Events Rachels deep understanding of anatomy, anthropometrics, light and colour naturally developed into a career of curating human environs, graduating with a degree in Interior Architecture in 2014.
Rachel's extensive experience across projects in the civic, public and education sectors saw her rise quickly through the ranks to the role of associate at her previous firm. Das Studio were privileged to have her join the team in 2020 where she has elevated herself to become an integral part of the leadership team, managing projects across Das's commercial and education portfolios.
Alongside Rachel's seniority in the practice – warm empathy, a calming demeanour and technical proficiency, make her an innate mentor. When she listens, she listens deeply – enabling her to understand her clients clearly and what it means for everyone to live, work and learn, with considered, beautiful spaces.
Samuel Green
Associate & Senior Architect
One of Sam's earliest memories involved scaling the heights of his childhood home, looking out and imagining possibilities from unsafe heights. Now as an architect some 25 years later, Sam is doing pretty much the same thing, albeit with two feet planted firmly on the ground.
Sam's capabilities extend from early consultation and masterplanning to on-site construction, and with experience in civic, education and adaptive reuse, he has been an integral contributor for numerous award-winning projects.
As a natural teacher, Sam sees the potential in others – something he champions as a member of the Das leadership team, mentoring multiple people at a time, as a study group leader and as a sessional tutor at the University of South Australia.
Thoughtful in his analysis of place, Sam is entrusted to explore unexpected outcomes alongside his clients and collaborators. As he uncovers these new possibilities, he does so with a calming and precise demeanour, making the complex seem not so scary at all.
Ashleigh Pinto
Interior Designer
A meticulousness and flair for sourcing 'the impossible' may have seen Ashleigh excel as a Private Investigator had she preferred mystery over materials. Instead, she has spent the last decade accumulating an enviable knowledge of products and delivering an extensive portfolio of projects since graduating with a degree in Interior Architecture.
An integral member of the Das studio team, Ashleigh is a trusted go-to for the Directors to get the job done efficiently and accurately. She scours her vast network of resources and suppliers to piece together entire worlds and spaces, with her 'Midas touch' seeing multiple projects garner awards in the hospitality and residential design sectors over the years.
Ashleigh takes pride in her ability to support the development of a design from concept to construction, a quality that greatly contributes to Das Studio's ability to create beautiful and functional spaces for all to enjoy.
Josh McCallum
Graduate of Architecture
Josh possesses an uncanny understanding of how objects and people come together. After completing a Master of Architecture, he deviated to devise everything from musical walking festivals to toy cog machines, and as a designer/maker, constructing fit-outs and furniture for his own ensemble of clients, creating rich narratives along the way.
With his 'story gathering' capability, Josh works it into every step of his process – particularly during the consultation phase. And, having been a maker for so long, loves getting in and around a construction site, observing the assembly of Das's many modular projects and the fit-out of bespoke installations.
Josh finds that the best stories are born from exchanges between people, their likes and dislikes, how they approach a problem and their reaction to an idea. He looks deep within these observations for inspiration – if a moment harbours a good story, there's nothing sweeter for Josh than finding a way to tell it.
Jenna Holder
Architect
As it happens, Architecture is much less maths than Jenna was led to believe, and so much more of everything else imaginable. Since that discovery, she has embarked on career of exploration for all things that Architecture is capable of.
Prior to joining Das, Jenna was one of a global network of Architects and consultants, working on large, complex projects in the Middle East, Pacific Islands and throughout Australia. Her experience garnered across continents, is now applied to enhance Das's own processes and capabilities.
Outside of practice, Jenna has been vocal for a number of causes – on the AIA National Committee for Gender Equity and now as an SA Chapter Councillor for the Institute. She also lends that voice to a new generation of designers, as a sessional tutor at multiple universities.
Jenna's passions permeate through her qualities as a registered Architect – pivoting between empathy, advocacy, ideas and technical aptitude – deftly balancing geographies, communities and ways of thinking.
Lesley Ganf
Marketing & Event Manager
Since completing a Master of Architecture in 2011, Lesley has shaped a career across a variety of niche roles by synthesising her favourite things in life; events, flora and architecture. Having relocated from Scotland soon after graduating, Lesley's proclivities as both doer and conductor have led to an integrated career across event management, communications and large-scale event creations.
Presenting with the calm silhouette above the water, Lesley's feet motor surreptitiously below, such is the profile of someone extremely comfortable with juggling multiple projects and quick problem solving.
She most recently worked with the National Architecture Awards for the Australian Institute of Architects before joining Das Studio in 2021 as the conductor of events, marketing and communications, steering Das's many extra-curriculars including ideas incubator Future Forum and the 20:MinuteCity podcast.
But, much like her water bird profile, the title barely breaks the surface of what she brings to Das – humour, energy and a portfolio of possibilities swirling just below the water.
Hannah Price
Interior Designer
Hannah is a real-world adventurer, exploring natural and human-made environments through her design lens that has been carefully refined since graduating with a degree in Interior Architecture five years ago. The combination of education and exploration has, over time, honed the development of her human-centered philosophy – design should never be exclusive but accessible for all.
With experience across a mix of large and small-scale practices both in Adelaide and Melbourne, Hannah's expertise spans several commercial projects scattered across state lines in workplace, education, aviation and tower developments.
From her time interstate, Hannah built a credible portfolio of hospitality projects, before making a welcome return to Adelaide where, with a preceding reputation for technical aptitude and a particularly sunny disposition, Das had a desk waiting. Since joining the team, Hannah has continued to envision a world where design is genuinely for everyone – and she just the designer to dream it up.
Rupert Piccoli
Graduate of Architecture
Since he graduated with a Master of Architecture, Rupert has practiced at a variety of scales – from urban transport and infrastructure projects, down to single-space interiors, treating them all with the same thoughtfulness he does his everyday passions.
Rupert has a range of authentically analogue skillsets that stretch from woodwork to object restoration. In addition to his natural flair as a wordsmith, a fire sits in his pursuit of a happy collaboration between rigorous technical design and theoretical research – something he showcases as the recipient of the 2018 Australian Institute of Architects Chapter prize for excellence in integration of research and design.
The merging of practice and theory is a particular modus operandi in Rupert's professional life, which he shares as a sessional Masters and Undergraduate tutor through the University of South Australia. What Rupert brings to Das is a disposition for craft passed down from a long line of Italian tinkerers, a philanthropic soul and an intellect that loves ideas – and loves to love them.
Edward Ramsey
Graduate of Architecture
Edward is forever chasing the thrill that comes with exploration and discovery, traversing layered and complex design conditions with a nimbleness enabled by taking the long view. Across his formative years in study, his adventurous but rigorous approach has seen him repeatedly recognised as an emerging talent, securing the Australian Institute of Architects Chapter Prize for Integration of Research and Design.
Since graduating with a Master of Architecture in 2019, Edward has worked on a range of project scales and typologies, from bespoke single residential to large scale community, sports and education projects. His brand of design agility has sparked an accelerated rise from student to respected practitioner both with Das Studio and as a sessional tutor at the University of South Australia.
What Edward has shown throughout his career to date is the ability to develop something from the early conceptual stage and consistently carry it through to execution with the nous of someone well beyond his years of experience.
Sara Threadgold
Interior Designer
Sara may be at the beginning of her career but she's quickly carving out her very own multi-coloured corner of the interior world. As winner of the 2019 Gold Student Award from the Design Institute of Australia and the Interior Architecture Award of Excellence for her graduating year, it was both merit and an endearingly sassy personality that secured her a place with Das Studio in 2020.
From day one, Sara immersed herself in design, and the studio library, fast tracking her knowledge of materiality and products to hone her own unique design aesthetic. From this foundation she has been able to unlock a treasure trove of ideas for Das Studio clients. Her proficiency with documentation is also something to behold, enabling Sara to deliver countless new learning environments across Das's many education projects.
Sara is continually refining her craft and executing outcomes well beyond her years, all-the-while embodying her mantra that there's no such thing as too much colour!
Renata Gebara
Graduate of Architecture
In 2015, Renata ventured to Adelaide from Sao Paulo, Brazil, with a Master of Architecture and a fearlessness that only comes from someone willing to put everything on the line in search of something greater. It was therefore fitting that she made her way to Das.
Renata's motivation for realising civic design aligned with Das Studio's growing capability across the education and health sectors – her relentless attention to the small things and Sherlock-Holmes-level inquisitiveness proving to be among Renata's finest attributes.
As a 2022 EmAGN Committee Member, Renata is an advocate for supporting the next generation of Architects, naturally this makes her the convener of Das's house of ideas, Show & Tell and Make Better sessions. She is actively supporting the growth of the practice, and the profession, demonstrating a genuine drive to make positive real-world impact.
Ultimately, Renata moved 14,428 kms to discover what she probably knew all along – that you need to look outside of yourself and find comfort in being uncomfortable.
Shannon Wark
Graduate of Architecture
The Architect and the Anthropologist have always had much to say to one another. From as young as 10-years-old, Shannon has imagined these conversations and how they may one day merge into a career.
After impressing the Das team during an internship in 2019, Shannon was immediately offered a casual position while finishing her Master of Architecture in 2020. She has since savoured working across all scales of design, from fine-grained residential details to the broader strokes of master planning, as a permanent member of the Das Studio team. As an Emerging Architects and Graduates Committee member she actively promotes multi-generational knowledge sharing by connecting students with the greater professional network through a series of events, discussions and debates.
Shannon still loves exploring theories concerning humanity, ritual and the all-important preservation of memory. Often found clutching her 35mm camera, safeguarding memories through her discerning lens, Shannon's ability to capture the essence of a place on film has aided the development of many Das projects.