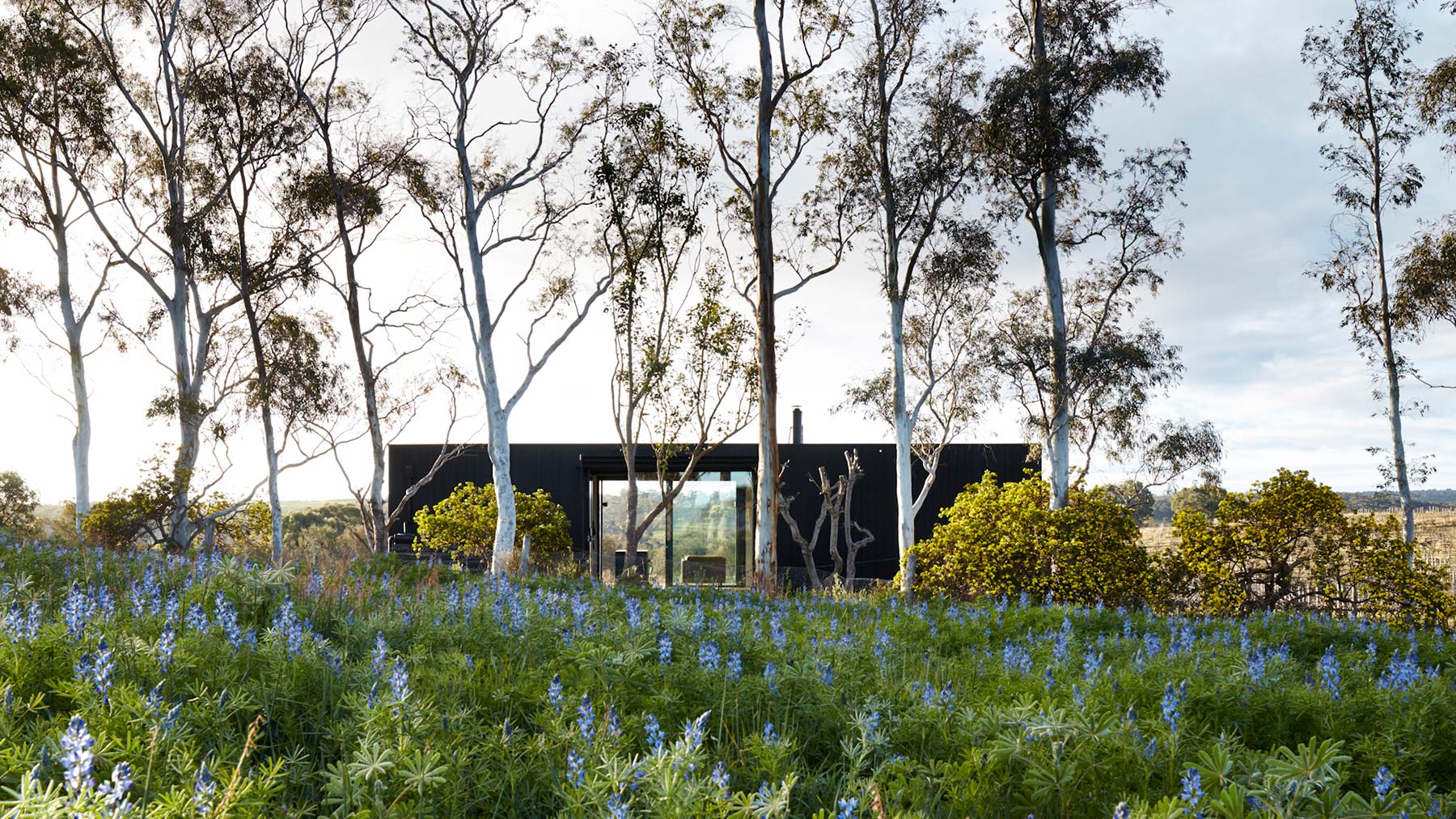 Location 
Kaurna Country  |  Blewitt Springs SA
Status
Completed 2019
Client
Esca
Photography
Sam Noonan
Awards
2022 Designers Australia Awards – National Award of Merit (Place)
Scope
Architecture, Interior Design, Styling
What happens when a 5-star hotel room is dropped into the middle of a picturesque vineyard just outside of Adelaide? Much like its guests, it is in no hurry to reveal its inner workings. The retreat is as seductive as it is secluded, a bold statement in luxury accommodation and clever building methodologies.
The Vineyard Retreat was designed as an expression of place and time, set in the terroir of McLaren Vale's renowned wine region.
Place
A private, working vineyard with existing accommodation and a reputation for premium experiences, a site encumbered by limited accessibility, proximity to the vines and next-to-no gap in the booking calendar to undergo any lengthy in-situ construction.
Proposition
Partnering with modular construction and tourism specialists ESCA, the project team proposed to design, fabricate and install a self-sufficient retreat that would provide a neighbouring story for the sites existing accommodation with minimal impact. All designed and executed within the confined footprint required by transportation logistics of offsite construction.
Make better
Architecturally commanding and aesthetically exclusive, the retreat is intelligently executed by the collaborative force of Das Studio x ESCA.
It's a neat little package that includes things not often found in even the most luxurious hotel rooms – a full kitchen, hidden laundry amenities, underfloor heating, wood-burning fire and three decked terraces for the changing weather conditions and dioramic moments of the day.
The central plinth works hard, doubling as a fire enclosure, woodstore, bedhead and tv backdrop, in a volume with limited wall space. It separates the main living areas from the sleeping quarters without blocking views of the vines beyond, giving guests full permission to leave the bed indulgently unmade and out of sight while they unwind throughout the day.
With a paired back palette of traditional grooved lining board, whitewashed oak, black steel, and soft grey ceramics, the interior recedes into the background allowing the natural views beyond to take centre stage.